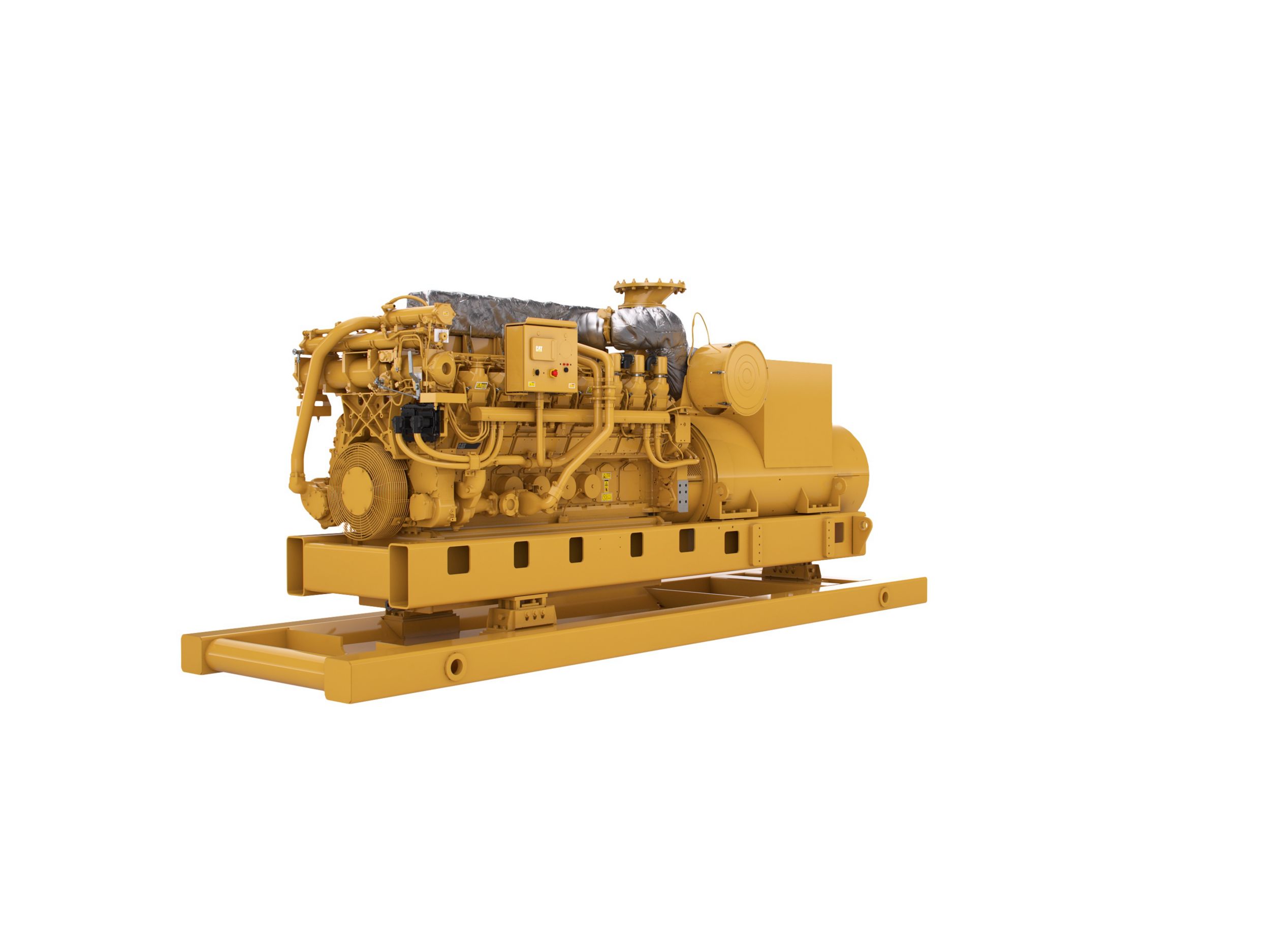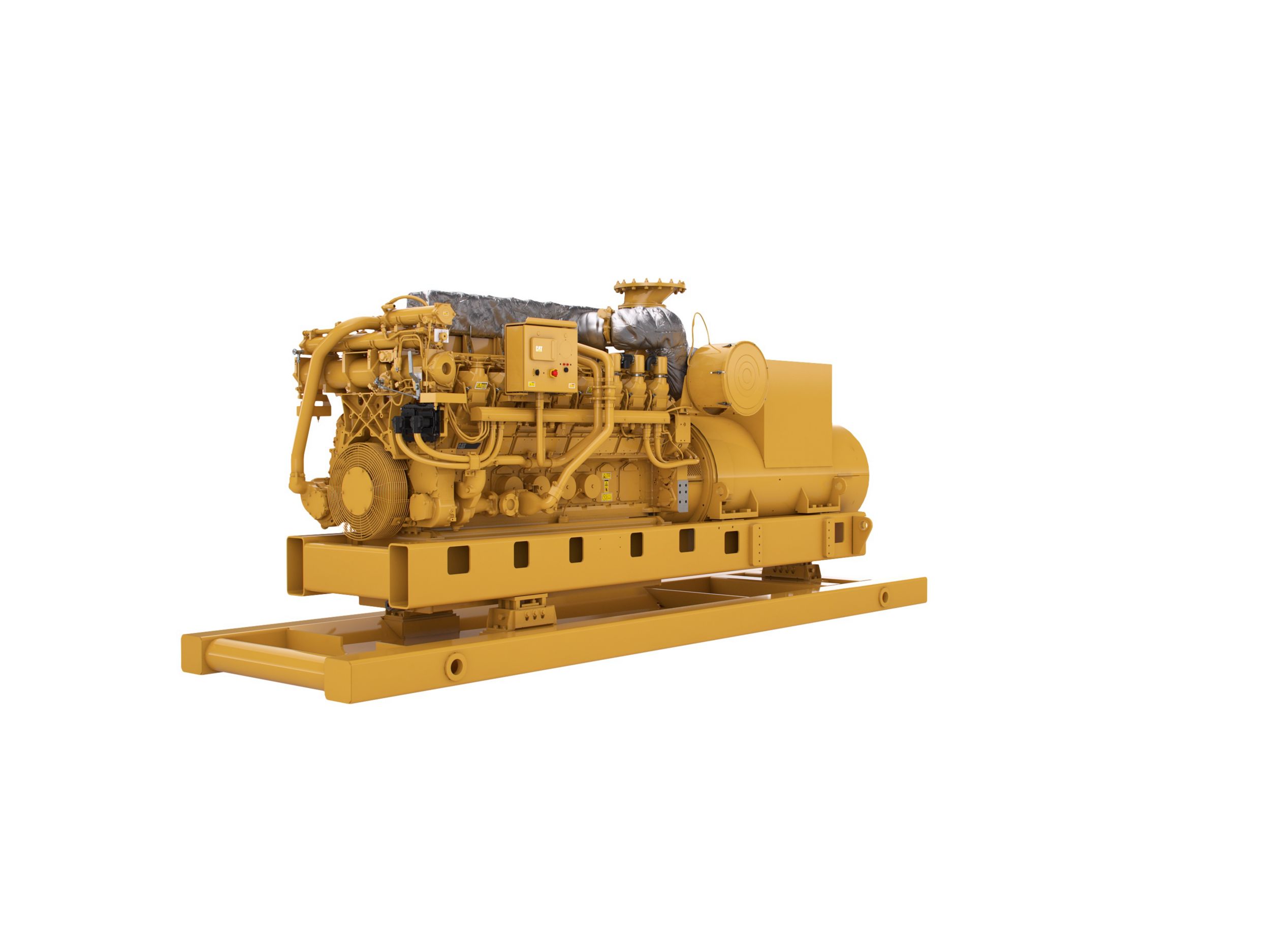 Specs Summary
Minimum Rating
2625 kVa (2100 ekW)
Maximum Rating
2625 kVa (2100 ekW)
Emissions
EPA Tier 2, IMO Tier II
Weight
38581 lb (17500 kg)
3516C (HD) CI/D2 Hazardous Location
Cat 3500 offshore generator sets are specifically designed for drilling and production operations offshore. Decades of experience powering offshore vessels and platforms make have evolved into a product that offers proven performance, low emissions, high durability, and low owning and operating costs. Cat generator sets are backed by the worldwide network of Cat dealers ready to support your operation with technical support, service, parts, and warranty. Cat 3516C (HD) Class I/ Division 2 offshore generator set ratings: 2100 ekW (2963 bhp) @ 60 Hz (1800 rpm).
Engine Specifications
Minimum Rating 2625 kVa (2100 ekW)
Maximum Rating 2625 kVa (2100 ekW)
Emissions EPA Tier 2, IMO Tier II
Aspiration Dual Turbocharged-Aftercooled
Fuel System EUI
Engine Control ADEM A4
Oil Change Interval 1000 hr (1000 hr)
Weight 38581 lb (17500 kg)
Stroke 8.5 in (215 mm)
Bore 6.7 in (170 mm)
Displacement 4760 in3 (78 L)
Dimensions
Length 264 in (6705 mm)
Height 100 in (2535 mm)
Width 78 in (1986 mm)
Capacity for Liquids
Cooling System (Engine) 62 gal (234.7 L)
Lube Oil System (Refill) 107 gal (405 L)
Standard Equipment
AIR INLET SYSTEM
Aftercooler core, corrosion resistant (air side)
Air cleaner, regular duty with service indicators
Dual turbochargers, rear mounted
CONTROL SYSTEM
Dual Caterpillar A4 electronic engine control with electronic unit injector fuel system and rigid wiring harness.
24 VDC (less than 10A) to be provided by customer at Power Distribution Panel to power engine electrical system.
COOLING SYSTEM
Jacket water (JW) engine cooling and two-stage jacket water/separate circuit (SCAC) charge air cooling
To ensure compliance in use, radiators or heat exchangers must be capable of rejecting sufficient heat to allow proper engine operation at worst site conditions.
The radiator or heat exchanger must supply 48C (118 F)
SCAC cooling water to the aftercooler inlet of at least 200 gal/min at ambient temperature of 30C and at site conditions (including altitude considerations)
EXHAUST SYSTEM
Dry gas-tight exhaust manifolds with heat shields, dual turbochargers with water-cooled bearings and heat shields.
Exhaust outlet: 305 mm (12 in) round flanged outlet, vertical orientation
FLYWHEELS & FLYWHEEL HOUSINGS
Flywheel, SAE No. 00, 183 teeth Flywheel housing, SAE No. 00
Flywheel housing, SAE No. 00
SAE standard rotation
FUEL SYSTEM
Duplex Fuel filter, LH service. Simplex fuel filter, RH service
Fuel transfer pump
Fuel priming pump, RH
Electronically Controlled Unit Injectors
Customer connection located at lower right front of engine
SOLAS shielding
INSTRUMENTATION
Engine mounted instrument panel with four position switch, over speed shutdown notification light, emergency stop notification light, graphical display unit for analog or digital display of: oil and fuel pressure, oil and fuel filter differential, system
LUBE SYSTEM
Top mounted crankcase breather, RH oil filter, RH oil filler, gear type oil pump, deep sump oil pan, recommended use of Caterpillar Diesel Engine Oil 10W30 or 15W40
MOUNTING SYSTEM
Mounting rails and isolation system based on customer request
ELECTRICAL SYSTEM
MCS certified Class I / Divison 2
Low Smoke Zero Halogen Wiring Harness
PROTECTION SYSTEM
A-III Electronic Monitoring System provides customer programmable engine de-ration strategies to protect against adverse operating conditions
Emergency stop push button (located in Electronic Instrument Panel) Safety shutoff protection for oil pressure and water temperature, over speed protection
HAZARDOUS LOCATION
Only electrical system is hazardous environment certified
NEC 500 Class I Division 2 for gas groups C and D
Temperature class is T3 for ambient temperatures from -10 C to 50 C
Class I/ Division 2 CMPD
GENERATOR AND GENERATOR ATTACHMENTS
Class I / Division 2 designed to customer's specifications
Insulation for harsh environment protection
Optional Equipment
AIR INLET SYSTEM
Air Cleaner Removal
Remote Air Inlet Adapters
CHARGING SYSTEM
Battery Chargers
Charging Alternators
CONTROL SYSTEM
Load Sharing module
Local speed throttle control
COOLING SYSTEM
Water level switch gauge
Coolant level sensors
Connections
Keel Cooling Conversions
Radiator cooling conversion
Heat exchangers
Auxiliary water pumps
Sea water pump removal
Air separator
EXHAUST SYSTEM
Exhaust outlet
Flexible fittings
Elbows
Flanges
Flange and exhaust expanders
Mufflers
FUEL SYSTEM
Fuel Cooler
Fuel priming pumps
Flexible fuel lines
Rigid Fuel Lines
Primary fuel filter
Fuel level switch
GENERATORS AND GENERATOR ATTACHMENTS
INSTALLED GENERATOR ARRANGEMENTS F/MAR AUX ENGINES
INSTALLED GENERATOR ARRANGEMENTS F/MAR AUX ENGINES
INSTRUMENTATION
PL1000T Communication Module
PL1000E Communication Module
Customer Interface Box
Thermocouples
Remote panel display
Remote cylinder temperature display
LUBE SYSTEM
Oil Pan
Oil pan accessories
Sump pumps
Prelubrication Options
Lubricating oil
Centrifugal Oil Filter
MOUNTING SYSTEM
Vibration isolators
Rails
POWER TAKE-OFFS
Flywheel guard
Flexible coupling
Coupling hub
Front housing accessories
Upper left hand front location
Upper left hand rear location
Upper right hand front location:
Upper right hand rear location
Lower left hand front location
Front housing accessory drives
Front power take-offsFront power take-offs
Crankshaft pulleys
Damper guard removals
PROTECTION SYSTEM
Air inlet shutoffs
Switches and contactors
Explosion relief valve
Sensors
SPARE PART KITS
SPECIAL APPEARANCE
STARTING SYSTEM
Starting motors or barring divice
Air starting motors options
Starting aids
Battery sets - 24 volt - Dry
Battery rack
GENERAL
Tool set
Caterpillar datalink wire
SVCE TOOLS/SHIP PROT/FACTORY SUPPORT