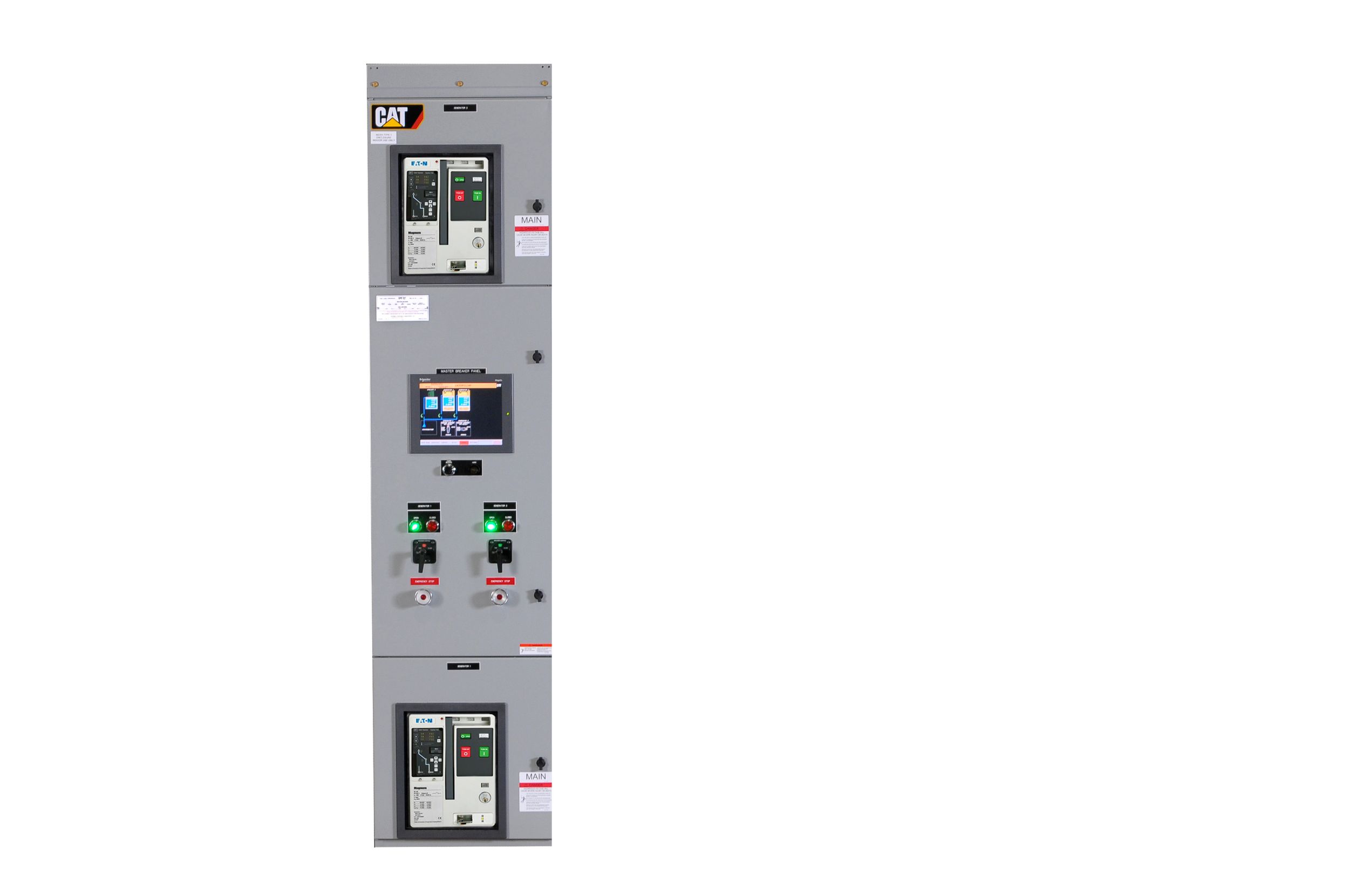 Engine Generator Integrated Switchgear
Caterpillar offers standard paralleling solutions, which can be provided in a wide variety of market applications. The Engine Generator Integrated Switchgear (EGIS) product line provides a standard paralleling system (circuit breakers, bus, and controls) using pre-engineered structures in an integrated controls / switchgear lineup. EGIS allows for operating generator sets in pre-configured Emergency Standby, Prime power and Parallel with Utility configurations. The modular EGIS system utilizes the industry proven Caterpillar EMCP 3.S dedicated controller to perform synchronization, power factor control, load sharing, and system monitoring. The user is able to monitor and control the system through an industrial touchscreen HMI.
Standard Equipment
Master Breaker Panel (MBP) for first 2 gensets
With electrically operated generator circuit breakers, lugs or cross-bus, and genset controls
12" Graphical Color Touchscreen display (HMI) Instant Auto Selector Switch
Allows user to return system to automatic in the event of a touchscreen failure
Spare inputs and outputs
2 discrete inputs and 3 discrete outputs programmable from the HMI
Optional Equipment
Generator Breaker Panel for 1 or 2 incremental gensets (up to 8 additional gensets)
With breaker position indications, circuit breaker control switch, generator controller, and user programmable logic I/O
Utility Breaker Panel
With closed transition soft transfer and utility control for 1 LV circuit breaker, utility grade protective relay, utility close lockout switch, breaker position indications, and circuit breaker control switch
Supplemental Hardware Synchronization check relay (ANSI 25 Device)
Provides additional discrete synchronization protection
Data Table Interface
Accomodates interface with a building management system for monitoring all system parameters via Modbus RTU or TCP
Generator Demand Priority Control
Automatically match the on-line generator capacity to the loads, and avoid unnecessary operation of generator sets.
Distribution Breaker Panel Slave
With I/O module for control of up to 3 circuit breakers
Each slave panel contains 3 distribution breakers