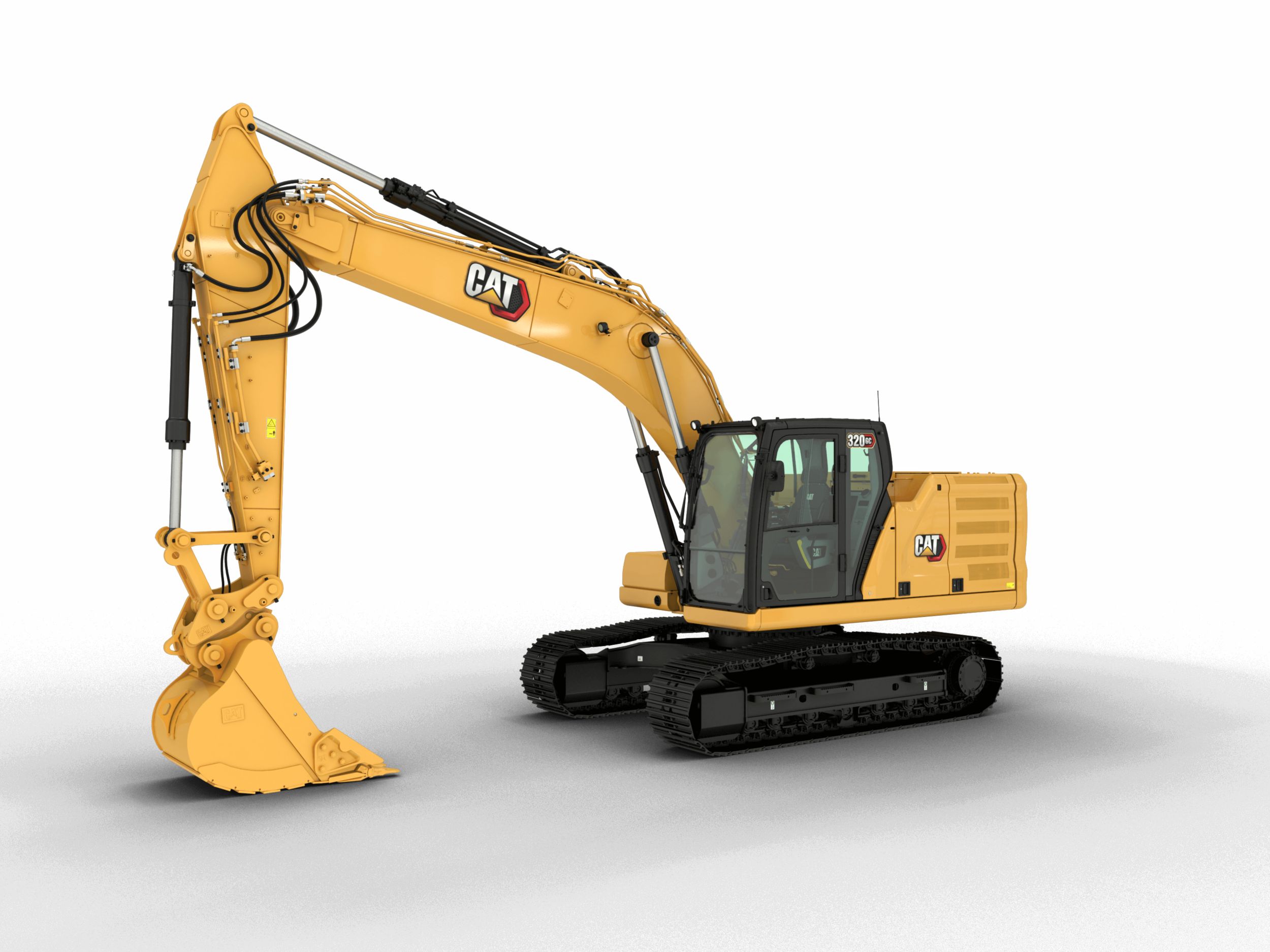 Specs Summary
Engine Power - ISO 9249
146 HP (109 kW)
Net Power - ISO 9249
146 HP (109 kW)
Operating Weight
48281 lb (21900 kg)
Maximum Digging Depth
22 ft (6720 mm)
320 GC Hydraulic Excavator
The Cat® 320 GC excavator balances productivity with easy-to-use technology features, a new comfortable cab, reduced fuel consumption by up to 20%, and longer maintenance intervals reducing maintenance costs by up to 25% to bring you a durable, low-cost-per-hour excavator for light- to medium-duty applications.
Engine Power - ISO 9249 146 HP (109 kW)
Engine Model ( )
Engine Power - ISO 14396 148 HP (110 kW)
Bore 4 in (105 mm)
Stroke 5 in (127 mm)
Displacement 269 in³ (4.4 l)
Main System - Maximum Flow ( )
Maximum Pressure - Equipment 5075 psi (35000 kPa)
Maximum Pressure - Travel 4974 psi (34300 kPa)
Maximum Pressure - Swing 3625 psi (25000 kPa)
Swing Speed 11.6 r/min (11.6 r/min)
Maximum Swing Torque 54900 ft·lbf (74.4 kN·m)
Operating Weight 48281 lb (21900 kg)
Fuel Tank Capacity 86.6 gal (US) (345 l)
Cooling System 6.6 gal (US) (25 l)
Engine Oil 4 gal (US) (15 l)
Swing Drive - Each 3.2 gal (US) (12 l)
Final Drive - Each 1.1 gal (US) (4 l)
Hydraulic System - Including Tank 61.8 gal (US) (234 l)
Hydraulic Tank 30.4 gal (US) (115 l)
DEF Tank 10.3 gal (US) (39 l)
Boom ( )
Stick ( )
Bucket ( )
Shipping Height - Top of Cab 9.7 ft (2960 mm)
Handrail Height 9.8 ft (2950 mm)
Shipping Length 31.3 ft (9530 mm)
Tail Swing Radius 9.3 ft (2830 mm)
Counterweight Clearance 3.4 ft (1050 mm)
Ground Clearance 1.5 ft (470 mm)
Track Length 10.7 ft (3270 mm)
Length to Center of Rollers 12 ft (3650 mm)
Track Gauge 7.2 ft (2200 mm)
Transport Width 10.4 ft (3170 mm)
Maximum Digging Depth 22 ft (6720 mm)
Boom ( )
Stick ( )
Bucket ( )
Maximum Reach at Ground Level 32.3 ft (9860 mm)
Maximum Cutting Height 31 ft (9450 mm)
Maximum Loading Height 21.3 ft (6490 mm)
Minimum Loading Height 7.1 ft (2170 mm)
Maximum Depth Cut for 2440 mm (8 ft) Level Bottom 21.6 ft (6550 mm)
Maximum Vertical Wall Digging Depth 18.7 ft (5690 mm)
Bucket Digging Force - ISO 28935 lbf (129 kN)
Stick Digging Force - ISO 22281 lbf (99 kN)
Net Power - ISO 9249 146 HP (109 kW)
Standard Equipment
NOTE
Standard and optional equipment may vary. Consult your Cat dealer for details.
ENGINE
Cat C4.4 electronically-controlled turbo-charged Tier 4 Final diesel engine
Meets U.S. EPA Tier 4 Final and EU Stage IV emissions standards.
Two selectable power modes
One-touch low idle with auto engine speed control
Auto engine idle shutdown
Recommended for use up to 4500 m altitude (14,764 ft) with engine power derate above 3000 m (9,842.5 ft).
52° C (125° F) high-ambient cooling capacity
Cold starting capability for - 32° C (- 25° F)
Double element air filter with integrated pre-cleaner
Electric fuel priming pump
Reversible electric cooling fans
Biodiesel capability up to B20
HYDRAULIC SYSTEM
Boom and stick regeneration circuits
Electronic main control valve
Auto warm up
Auto two-speed travel
Boom and stick drift reduction valve
Element type main hydraulic filter
3 Buttons Joysticks
Electronic main pump
Electric refueling pump (Europe only)
STANDARD COMFORT CAB
ROPS, standard sound suppression
High-resolution 8" (203 mm) LCD touchscreen monitor
Auto Bi-level air conditioner
Jog dial and shortcut keys for monitor control
Keyless push-to-start engine control
Height-adjustable console, 3-steps with tool
Mechanically adjustable seat suspension
Seat belt, retractable (51 mm [2"] width)
Fixed left side console
Bluetooth® integrated radio with USB ports
12V DC outlets
Document storage
Cup and bottle holders
Two-piece front window, openable
Steel hatch, openable
Upper radial wiper with 70/30 w/washer
LED dome and lower interior lights
Roller front sunscreen
Beacon ready
Washable floor mat
Straight travel pedal (US Only)
UNDERCARRIAGE AND STRUCTURES
Tiedown points on base frame (ISO 15818 Compliant)
Bottom guards
Standard travel motor guards
Grease lubricated track links
4200 kg (9,260lb) counterweight
Standard swing frame
Standard swing bearing
Base frame with standard track rollers and standard carrier rollers
Final drive with standard travel motor
790 mm (31" ) triple grouser track shoes
ELECTRICAL
1000 CCA maintenance-free batteries (x2)
Centralized electrical disconnect switch
Programmable time-delay LED working lights
LED chassis light, LH boom light for reach-850 lumens
BOOM, STICKS AND LINKAGES
5.7 m (18'8") reach boom
2.9 m (9'6") stick
790 mm (31" ) triple grouser track shoes
Bucket linkage, B1-family with lifting eye
SAFETY & SECURITY
Rearview camera and side right hand mirror
Rear and right-hand-sideview camera (Europe)
Neutral lever (lock out) for all controls
Anti-skid plate and countersunk bolts on service platform
Ground-level accessible secondary engine shutoff switch in cab
Right hand rail and hand hold (ISO 2867 compliant)
Travel alarm (US only)
SERVICE & MAINTENANCE
Sampling ports for Scheduled Oil Sampling (S·O·S℠)
Grouped location for engine oil and fuel filters
Ground-level 2nd dipstick for engine oil
Remote flash
CAT TECHNOLOGY
Cat Product Link™
Auto hammer stop
Optional Equipment
NOTE
Standard and optional equipment may vary. Consult your Cat dealer for details.
CAT TECHNOLOGY
Cat GRADE with Advanced 2D
HYDRAULIC SYSTEM
Combined flow/high pressure aux circuit
Simplified combined circuit (2 Way)
Quick coupler circuit for Cat Pin Grabber
Slider joysticks
Smart boom (Europe only)
ELECTRICAL SYSTEM
LED chassis light, left and right hand boom lights for reach, cab lights- 850 lumens
STANDARD COMFORT CAB
SERVICE & MAINTENANCE
SAFETY & SECURITY
Right hand side mirror for use with right-hand-sideview camera or 360° visibility (Europe)
Shovel crane package - optional Japan only
BUCKET
HD buckets 1.0m³ (1.31yd³)
UNDERCARRIAGE AND STRUCTURES
Long undercarriage
Long narrow undercarriage - optional Europe only