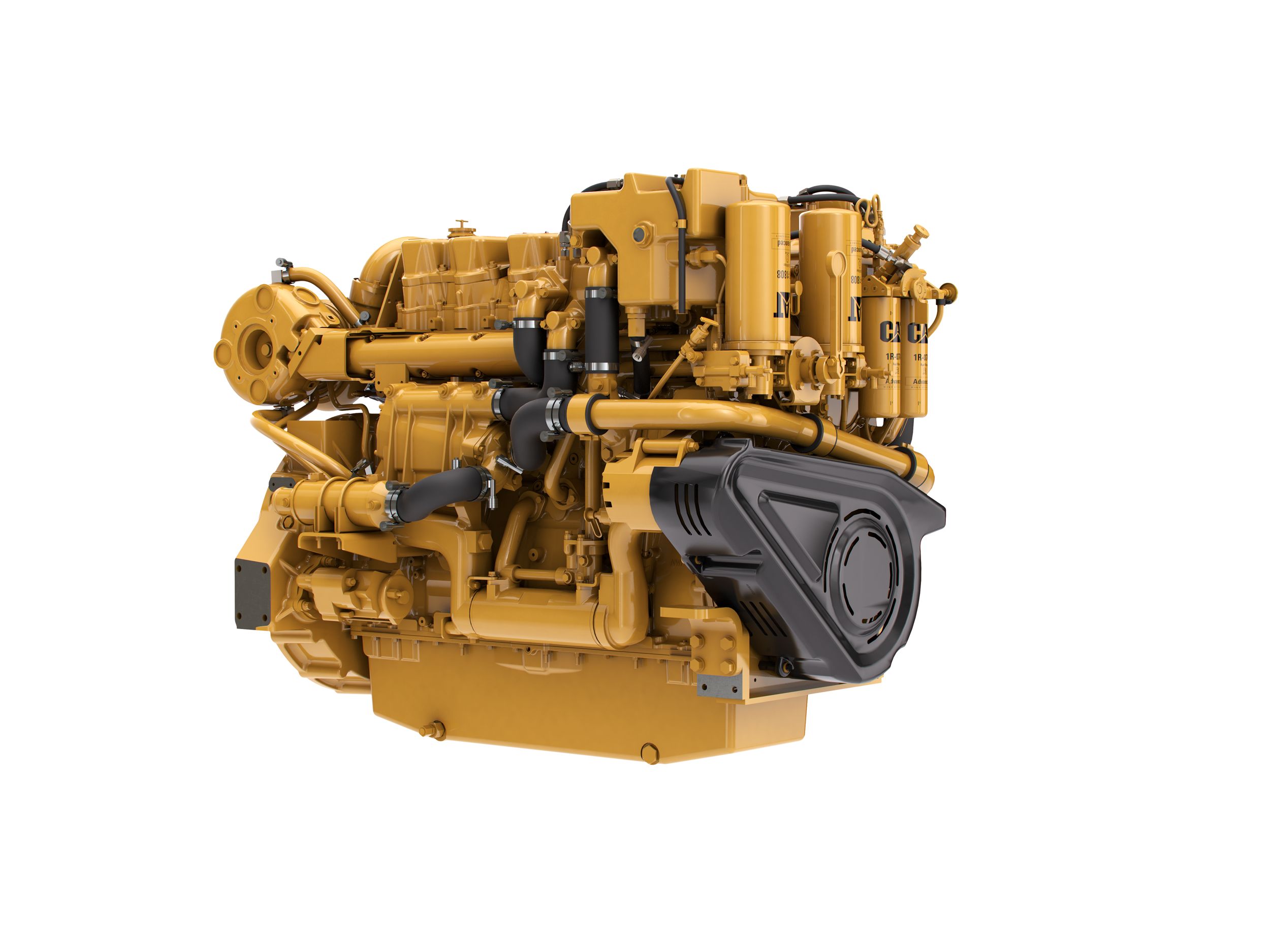 Specs Summary
Power Range
( )
6 Brick Z-Flow - Length

Speed Range
( )
6 Brick Z-Flow - Height

3406C Propulsion Engine
The mechanically governed 3406C marine propulsion engine is available "A" rating of 365 bhp (272 bkW) and a "B" rating of 400 bhp (298 bkW).
Power Range ( )
Speed Range ( )
Rotation from Flywheel End ( )
Configuration ( )
Displacement 891 in³ (14.6 l)
Aspiration ( )
Stroke 6.5 in (165.1 mm)
Bore 5.4 in (137.2 mm)
Emissions ( )
Width 36 in (913.5 mm)
Height 50.3 in (1278.5 mm)
Length 57.3 in (1454.2 mm)
Dry Weight - Approximate 2921 lb (1325 kg)
Standard Equipment
Exhaust System
Manifold & Turbocharger, watercooled
152 mm (6 in) round flanged outlet on 1800 rpm
Elbow, dry, 152 mm (6 in) on 1800 rpm
Flange, dry, 152 mm (6 in) on 1800 rpm;
Air Inlet System
Aftercooler core, corrosion resistant coated (air side)
Air cleaner, Regular duty, dry, panel type with service indicator.
Turbocharger inlet, 152 mm (6 in) OD straight connection
Control System
Governor, Hydra-mechanica
Flywheels & Flywheel Housings
Flywheel, SAE No. 14
Flywheel housing, SAE No. 1
SAE standard rotation
Fuel System
Fuel filter, Spin on, LH
Fuel transfer pump
Fuel priming pump
Flexible fuel lines
Fuel ratio control
Instrumentation
Instrument panel, LH
Engine Oil Pressure gauge
Engine water temperature gauge
Fuel pressure gauge
Lube System
Crankcase breather
Oil filter, Spin on, RH
Oil filler in valve cover and dipstick, RH
Oil pump, sump, manual
Mounting System
Cooling System
Oil cooler
Thermostats and housing, Full open temperature 92 C (198 F)
Jacket water pump, gear driven, centrifugal
Auxiliary sea water pump, gear driven, rubber impeller, rotary, self priming (heat exchanger engines only)
Expansion tank
Marine transmission oil cooler
Starting/Charging System
Charging alternator
Electric starting motor, LH
General
Vibration damper
Lifting eyes
NOTE: Engines for keel cooling do NOT include keel cooler. Engines for heat exchanger cooling do NOT include heat exchanger.
Optional Equipment
EXHAUST SYSTEM
Elbow
Rain Cap
Flexible Fitting
Muffler
Duplex fuel filters
Water seperator
CONTROL SYSTEM
COOLING SYSTEM
Head exchanger - shipped loose
Dry charge coolant conditioner
LUBE SYSTEM
STARTING SYSTEM
Ether starting aid
Battery Sets - 24 Volt - Dry
PACKING
Engine Protective Cover
Storage Preservation
Export Packing
GENERAL