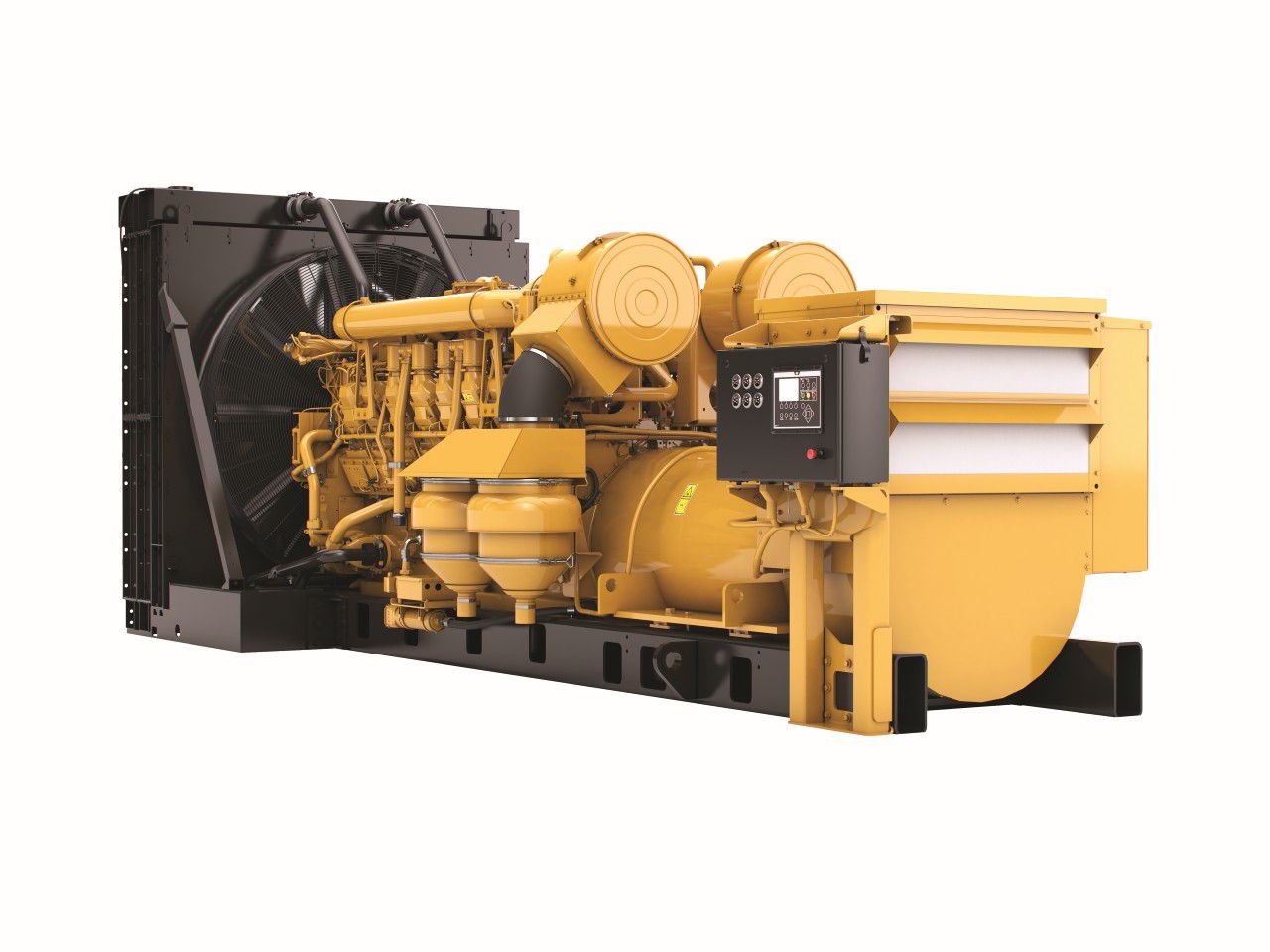 Specs Summary
Maximum Rating
( )
Minimum Rating
( )
Fuel
( )
Emissions/Fuel Strategy
( )
3516B Diesel Generator Set with Dynamic Gas Blending
Producing oil and gas is a complex task that requires specialized power generation equipment. Cat 3500 generator sets with Dynamic Gas Blending offer the lowest owning and operating cost by displacing diesel with low cost gas. They are specifically designed for the oilfield and combine decades of experience in diesel and gas engines with the latest electronics to ensure highest performance, optimum dual fuel operation, low emissions, and simplified operator interface.Cat generator sets are backed by the worldwide network of Cat dealers ready to support your operation with technical support, service, parts, and warranty.3516B generator set with dynamic gas blending kit. Ratings: 1600 ekW (2000 kVA) @ 50 Hz (1500 rpm).
Maximum Rating ( )
Minimum Rating ( )
Emissions/Fuel Strategy ( )
Aspiration ( )
Manifold Type ( )
Bore 6.69 in (170 mm)
Stroke 7.48 in (190 mm)
Displacement 4211 in³ (69 l)
Engine Control and Protection ( )
Generator Set Control ( )
Generator ( )
Fuel System ( )
Frequency - Speed ( )
Fuel ( )
Length 260.6 in (6619 mm)
Width 94.4 in (2397 mm)
Height 99.5 in (2528 mm)
Weight 41888 lb (19000 kg)
Lube Oil System - Refill 107 gal (US) (405 l)
Cooling System - Engine 62 gal (US) (233 l)
Standard Equipment
Air Inlet System
Aftercooler core — corrosion resistant
Air cleaner — regular duty with soot filter
Service indicators
Flame arrestors
Control System
ADEM A4 ECU
ISM (integrated sensor module) for combustion feedback sensors
Exhaust gas temperature sensors
Cooling System
Radiator cooled - land based
Outlet controlled thermostat and housing
Jacket water pump — gear-driven
Dual outlet
Aftercooler cooling pump (SCAC) — gear-driven centrifugal
Diesel Fuel System
Fuel filter
Fuel transfer pump
Flexible fuel lines
Fuel priming pump
Electronically controlled unit injectors
Exhaust System
Exhaust flexible fitting, adapter and flanges
Dual turbochargers with water-cooled bearings
Flywheel and Flywheel Housing
SAE No. 00
SAE standard rotation
Gaseous Fuel System
Low pressure regulator
Electronically actuated fuel control valve
Gaseous fuel heater
Electronically controlled gas shut-off valve
Gas induction nozzles
CSA certified gas electronic components
Instrumentation
Analog gauges
EMCP 4.4 control panel
Lube System
Crankcase breather
Oil cooler
Oil filter
Shallow oil pan
Oil pan drain valve
Mounting System
Oilfield base
Heavy-duty land rig inner baseframe — three-point mountto oilfield base
Power Take-Offs
Protection System
ADEM A4 ECU monitoring system provides engine protectionstrategies to protect against adverse operating conditions.Selected parameters are customer programmable.
Starting System
Air starting motor
Air silencer
General
Paint — Cat yellow
Vibration damper and guard
Lifting eyes
Lift and cable tow provisions
Optional Equipment
Air Inlet System
Heavy-duty air cleaners and precleaners
Remote air inlet adapters
Charging System
Battery charger
Charging alternator
Control System
Load sharing module
Cat digital voltage regulator
Governor conversion
2301A load sharing governor
Cooling Systems
High gloss black folded core radiators and conventional coreradiator
Coolant regulator conversions
Belt guard, radiator guard
Blower fan – engine mounted
Fan drive and fan pulley
Radiator mounting
Water level switch gauge
Coolant level sensors
Exhaust System
Elbows
Mufflers
Flange and exhaust expanders
Fuel System
Primary fuel filter
Fuel cooler
Generator
Oilfield spec twin-bearing, close-coupled
Generator Attachments
Air filter
Low voltage extension box
Potential transformer
Manual voltage control
Current droop transformers
Cable access box
Bearing temperature detectors
Instrumentation
Customer programmable annunciator
Gauges and instrument panels
Switches, relays, and contractors
Lube System
Fumes disposal
Oil filter, oil pan accessories
Sump pumps
Mounting System
Oilfield outer base with three-point mount
Power Take-Offs
Protection System
Explosion relieve valve, shutoffs
Switches and contacts/relays
Oil pressure monitors, sensors
Starting System
Air pressure regulator
Starting aids
General
Tool set
Cat data link wire