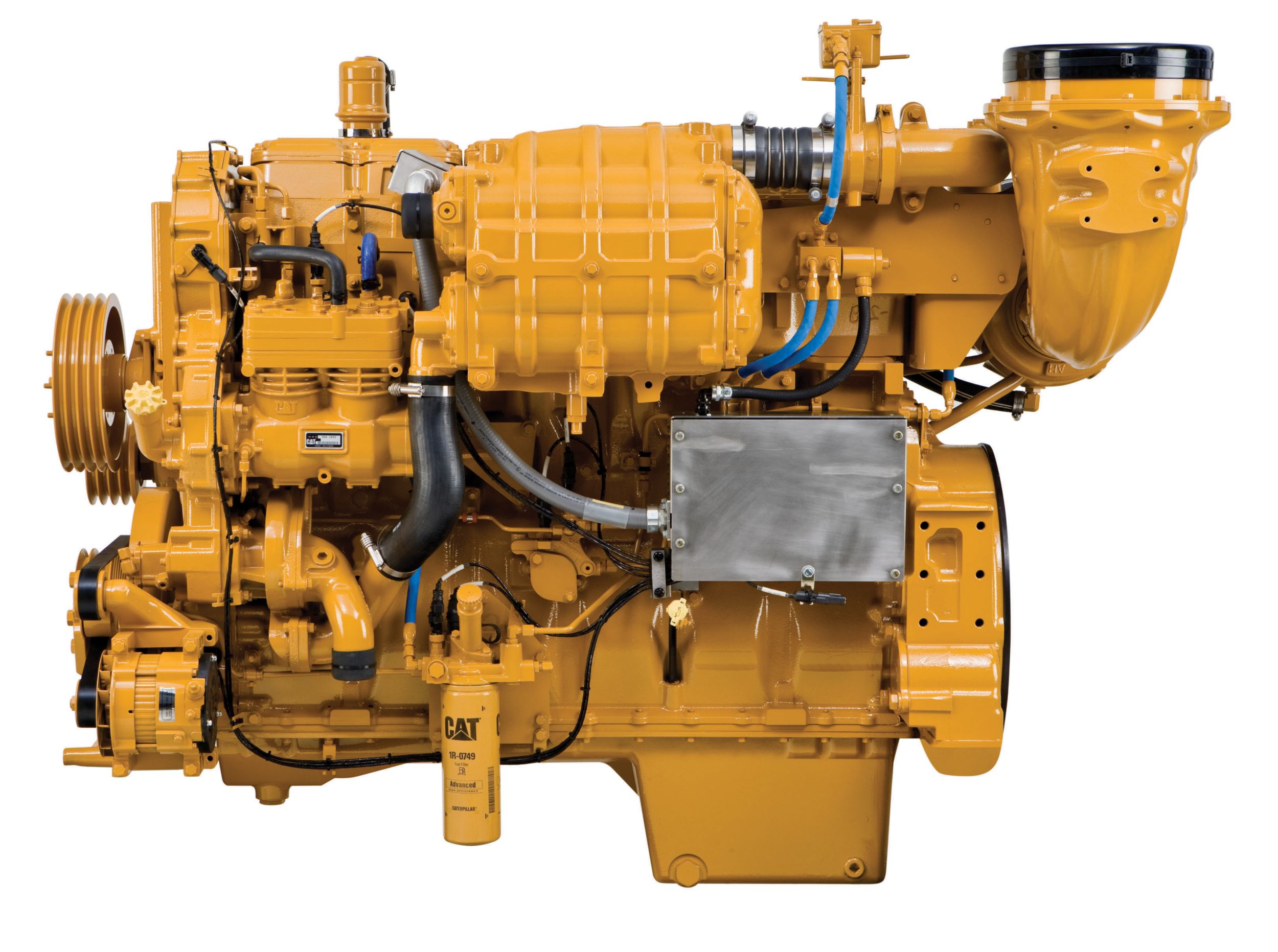 Specs Summary
Minimum Rating
536 BHP (400 bkW)
Maximum Rating
536 BHP (400 bkW)
Emissions
( )
Length
80.18 in (2036.6 mm)
C15 ACERT™ Hazardous Location Engine
Cat C15 ACERT hazardous location engines are the ideal solution for specialized and demanding operations in the oilfield. Engines are hazardous-location certified from the factory to minimize installation design, time, and cost. Decades of field operation and intense research and development allow Cat C15 ACERT hazardous location engines to deliver excellent performance with low operating costs and emissions. Hazardous location engines are certified to operate in potentially explosive environments. Applications powered by C15 ACERT engines include workover rigs, pump skids, nitrogen units, acidizing units, cementing units units, blenders, and hydraulic power units. Cat engines are backed by the worldwide network of Cat dealers ready to support your operation with technical support, service, parts, and warranty. C15 ACERT hazardous location engines, with ratings 400-436 bkW (536-540 bhp) @ 1800-2000 rpm meet IMO Tier II and U.S. EPA Marine Tier 3 equivalent emission standards. They are available using U.S. EPA and EU Flexibility, and for other regulated and non-regulated areas.
Minimum Rating 536 BHP (400 bkW)
Maximum Rating 536 BHP (400 bkW)
Governor and Protection ( )
Aspiration ( )
Displacement 928 in³ (15.2 l)
Flywheel and Flywheel Housing ( )
Flywheel Teeth ( )
Rotation from Flywheel End ( )
Stroke 6.7 in (171 mm)
Bore 5.4 in (137 mm)
Emissions ( )
Length 80.18 in (2036.6 mm)
Width 41.35 in (1050.4 mm)
Height 55.65 in (1413.6 mm)
Weight 3818 lb (1732 kg)
Lube Oil System - Refill 36 gal (US) (34 l)
Cooling System 28.4 gal (US) (26.9 l)
Standard Equipment
Air Inlet System
Separate circuit aftercooler with ATEX approved shutoff, 90° turbo inlet connection, 304.8 mm (12") hose connection with flame arrestor
Charging System
24V ATEX approved alternator — LH mounted*
Control System
Electronic governing, PTO speed control, programmable ratings, cold mode start strategy, automatic altitude compensation, power compensation for fuel temperature, programmable low and high idle and TEL, electronic diagnostics and fault logging, engine monitoring and protection system (speeds, temperature, pressure), J1939 broadcast (diagnostic, engine status and control)
Cooling System
Thermostat and housing — outlet vertical; jacket water pump — gear-driven, centrifugal; RH front water pump inlet; SCAC
Exhaust System
Right rear turbo exhaust, water cooled turbine housing, carbon steel exhaust manifold — wet
Flywheels and Flywheel Housing
SAE 1 flywheel housing standard, see price list for flywheel options
Fuel System
Electronic unit injector; fuel priming pump — upward angled; engine-mounted secondary fuel filter, front-mounted fuel transfer pump — LH front; fuel sample valve — mounted on fuel filter base
Lube System
Oil cooler; RH oil filter; rear sump 38 L oil pan; valve cover oil fill, optional front oil fill; oil gauges standard with LH and RH access; oil valve sampling on oil filter base; remote mount oil filter kit
Mounting System
Front support with mounting provision for LH or RH alternators
Power Take-Off
SAE B options for SCAC and REMAC: single cylinder ATEX air compressor; dual cylinder air compressor, SAE B drive adapter; SAE A drive for REMAC
Front Engine Accessory Drive
3 v-groove standard — optional 4 and 5 groove 203.2 mm (8.0 in) diameter crankshaft, 17.5 mm (11/16 in) v-belt; optional v-belt or 8-groove accessory drive for 240.39 mm (9.46 in) diameter pulley; ATEX 24V 35 amp alternator — LH and RH mounting poly v-belt; CSA 24V 65 amp alternator — LH and RH mounting poly v-belt; variable fan heights and ratios with 3 and 4 groove fan drives (see Price List)
General
Vibration damper, lifting eyes, automatic variable timing — electronic, electronic installation kit 70-pin connector (connectors, pins, sockets), literature GP Owner & Operator, paint
Optional Equipment
Air Compressor
Belt-driven, two-cylinder, single-stage, reciprocating with a rated displacement of 13.2 cfm at 1250 rpm compressor speed; includes two environmental drains and filtered atmospheric air connection
Charging System
24V 35A EX d ATEX compliant alternator for Gas Group IIB, temperature class T3; heavy-duty, brushless. 24V 65A alternator, NEC 500 Class 1 Division 2 for Gas Groups C&D, temperature Class T3; heavy-duty, brushless. 24V 55Ah EX d e II T4 increased safety deep discharge battery pack with integral junction box and isolator switch.
Control System
Air, electric, or hydraulic shutdown system input options available
Throttle knob speed control - shipped loose if no control panel option selected; ATEX approved 24V operation; twist knob, locking design; 2-turns, low to high speed; CCW rotation to increase engine speed, push in or turn CW to return to low idle
Messenger display - shipped loose if no control panel option selected; electronic display unit for monitoring key engine operation data and diagnostic information on a full graphic LCD screen; four select buttons to scroll through the engine data and diagnostic screens and navigate through the display configuration menu to change display settings; connection to the engine control module is via the J1939 CAN data link
PCS2 control board - provides supervisory safety system function and overspeed shutdown control; includes shipped loose start button, run/stop switch, emergency stop button for integration in customer control panel; switches and sensors for exhaust gas temperature, coolant temperature, oil pressure, and engine speed shutdowns; user configurable alarm and shutdown relay inputs
3GP flametrap elimination system - provides gas detection, supervisory safety system function, overspeed shutdown control; allows operation without exhaust flame traps to reduce maintenance; includes shipped-loose start button, run/stop switch, emergency stop button for integration with customer panel; provides up to 20 optional inputs and outputs for customer equipment; designed to give automatic shutdown in the event of engine overspeed, high exhaust temperature, high coolant temperature, low oil pressure, detection of hydrocarbon gas; additional I/O pressure and temperature input switches available on request.
Fuel System
Fuel cooler, installed, maintains acceptable fuel temperature when running from day tank
Starting System
Air, electric and hydraulic starters available
Paint
Offshore 3-coat epoxy paint system, 325 micron thicknes