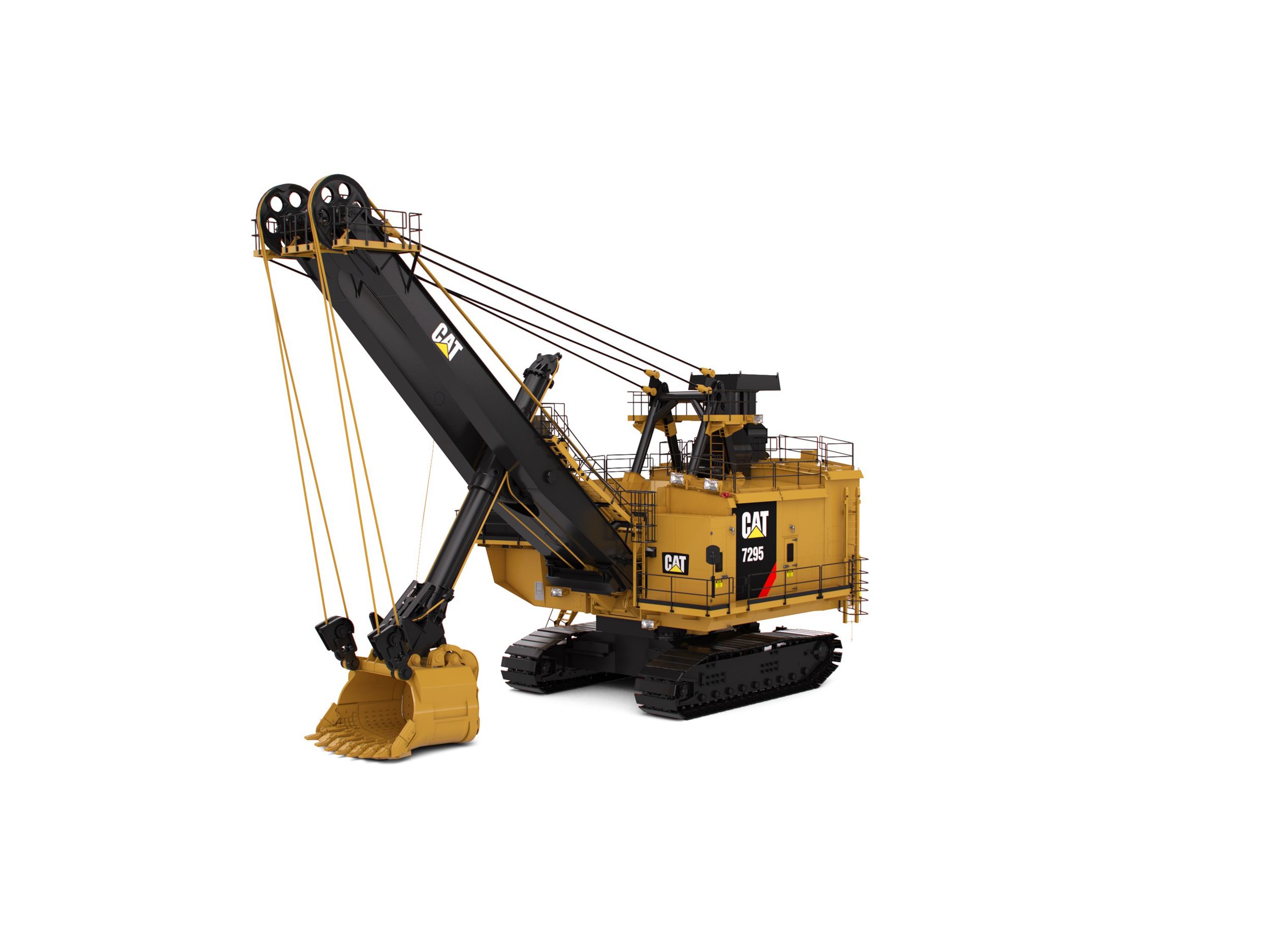 Specs Summary
Dipper Payload
50 t (45 t)
Dipper Capacity
( )
Working Weight - With Dipper and Standard Links
1748837 lb (793259 kg)
Rope Data - Boom Suspension - No.

7295 Electric Rope Shovel
One of our mid-range shovels, the Cat 7295 provides proven Cat AC IGBT electronics and a robust front end design. The 7295 provides a 50-ton (45-tonne) payload, plus three- and four-pass loading capability with the Cat 785 ,789 and 793 mining trucks for an optimal loading and hauling operation.
Note (1) ( )
Dipper Payload 50 t (45 t)
Dipper Capacity ( )
Working Weight - With Dipper and Standard Links 1748837 lb (793259 kg)
Note (2) ( )
Ballast - Furnished By Customer 352000 lb (159665 kg)
Note (1) ( )
Ground Bearing Pressure ( )
Crawler Dimensions - Overall Width 182.9 cm (72 in) Treads, Standard 28.22 in (8.6 cm)
Ground Bearing Pressure - 182.9 cm (72 in) Treads 39 in (269 cm)
Upper Works Overall Width - Including Standard Walkways 41.33 ft (12.6 m)
Planetary Propel ( )
Swing ( )
Ground Bearing Pressure - Total Effective Bearing Area 315.6 ft² (29.3 m²)
Hoist ( )
Dumping Height - With Clearance to Open Dipper Door 27.56 ft (8.4 m)
Cutting Radius - Maximum 67.59 ft (20.6 m)
Revolving Frame Tail Swing Radius 25.59 ft (7.8 m)
Radius of Level Floor 48.88 ft (14.9 m)
Cutting Height - Maximum 45 ft (13.7 m)
Components (2) ( )
Type ( )
Power Requirements - 60 Hz ( )
Power Requirements - Peak power 2886 HP (2152 kW)
Drive ( )
Note ( )
Power Requirements - Voltage ( )
Power Requirements - 50 Hz ( )
Power Requirements - Average Power Demand ( )
Standard Rope Data - Retract - Diameter 2.25 in (57 mm)
Standard Rope Data - Dipper Trip - Diameter 0.625 in (16 mm)
Standard Rope Data - Boom Suspension - No. ( )
Standard Rope Data - Crowd - No. ( )
Standard Rope Data - Boom Suspension - Diameter 2.75 in (70 mm)
Components ( )
Standard Rope Data - Retract - No. ( )
Standard Rope Data - Hoist - Diameter 2.375 in (60 mm)
Standard Rope Data - Crowd - Diameter 2.25 in (57 cm)
Standard Rope Data - Dipper Trip - No. ( )
Crowd ( )
Standard Rope Data - Hoist - No. ( )
Note ( )
Note (2) ( )
Components (1) ( )
Note ( )